About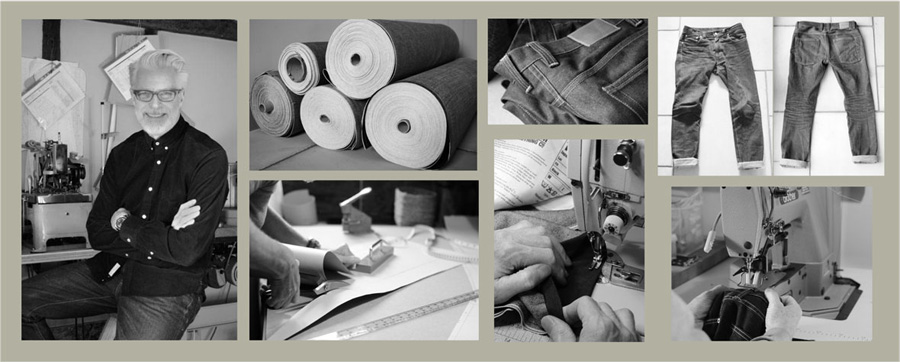 A bit about us:

At Alde Custom Clothing we promote the idea of lasting garments – throwaway fashion is such a waste of precious resources. We believe garments should have heart and soul, made from beautiful fabrics by skilled people who are passionate about what they do.

Founder John Francomb has over 30 years experience in menswear design and manufacturing. With a background in bespoke tailoring, John has a passion for fit, function and construction.

"Ever since making my first pair of dry-selvedge jeans from a length of cloth brought back from a trip to Japan, I have been captivated by the fabric and the process of making jeans. " Says John. "The thing I love about dry-selvedge denim jeans is they get better with age. The fact you need to keep them for a long while appeals to my sensibility; they become dependable and loved old-favorites".

Alde Custom denim products are cut and made by hand and using a selection of classic and vintage sewing machinery in our own workshop in Suffolk, England.

We source the denim and hardware from the very best makers in Japan. Japanese Raw Selvedge Denim is very special. It's woven slowly on old style shuttle looms and has a unique character that cannot be replicated by modern power looms. The denim is pre-shrunk but otherwise untreated so it will age beautifully and get better with wear.

About the name:


The name Alde Custom comes from the river Alde that runs close to my studio in Suffolk. It runs though Snape and Aldeburgh before flowing out into the North Sea. Aldeburgh (meaning 'old fort') was once a thriving port in the middle ages but now it's better known for the Aldeburgh Festival that takes place annually at the nearby Snape Maltings. Custom (as a noun) meaning a sense of convention or tradition.



Suffolk is a stimulating place to live and work. Artists, writers and musicians have all been inspired by the wonderful landscape and still today there are creative minds finding inspiration in this beautiful coastal county.


John's Story:

I started my career in clothing over 30 years ago making bespoke shirts for customers of local tailors to support my meagre student grant whilst I studied fashion design. I was always interested in designing menswear, so I went to work with a bespoke tailor where I leant about cutting, fitting and constructing handmade English tailored suits. It turns out these skills have been invaluable to me throughout my career.
I worked for a number of clothing companies small and large, but what I really wanted to do was set up my own business.
I settled on making men's formal shirts and set up a factory in my hometown in Essex, employing over 120 people making traditional shirts and handmade silk neckties for a well-known British shirt brand based in Jermyn Street, London. Pressures of the market meant the factory finally closed its doors after nearly 20 years of business and production went overseas.
The past few years have been spent developing this brand into a multi-product global business. This growth created a need for large volumes of product, and due to the demise of the UK clothing industry, took me overseas to source production from Europe to the Far East.

I have been lucky enough to work with some great factories and mills around the world, however, my first love is for small-scale, artisan products, made with great skill in small quantities – producing something special – clothes to be cherished.